If you've spent quarantine saving up for a rainy day, now is the time to go into your piggy bank and snag some rainy day outfits in time for spring showers ahead.
You may think sartorial inspiration is scant when it's raining cats and dogs, but celebs from Ariana Grande to Jennifer Aniston to Dua Lipa have long given masterclasses in storm-ready outfits. Yes, celebrities still venture out into the elements, downpours included—complete with people following them around with umbrellas when they can't seem to shield themselves from precipitation—and we dug up 10 practical outfits to prove it. So if you're wondering what to wear on a rainy day, turn to these flawless celeb looks, and shop them below.
Sweatsuit + Scrunchies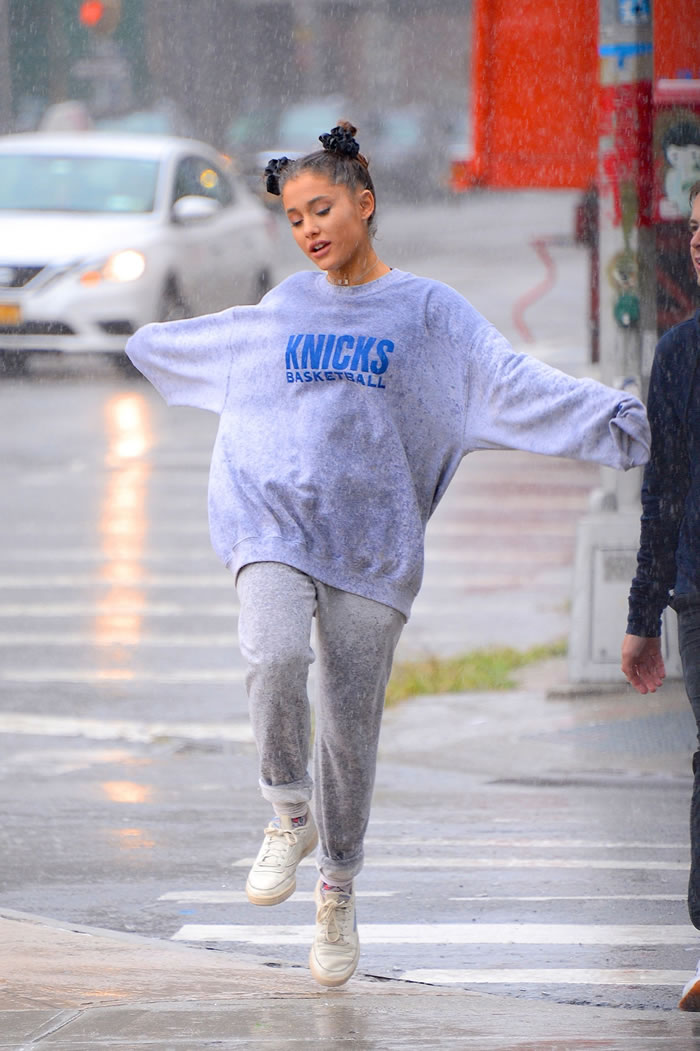 It's only right to kick things off with Ariana Grande, cloud emoji enthusiast and singer of precipitation anthem "Rain On Me." The pop icon appeared in her element as she frolicked through a summer shower in oversized heather gray sportswear, putting a playful spin on the roomy look with space buns and scrunchies.
The cozy queen was ahead of her time when it came to her affinity for hoodies you can swim in, and we all followed suit once the pandemic hit, collecting sweatsuits like madwomen and, likely just mentally, gallivanting through the streets with that unhinged 2001 newly divorced Nicole Kidman energy.
Tie-Dye + Sneakers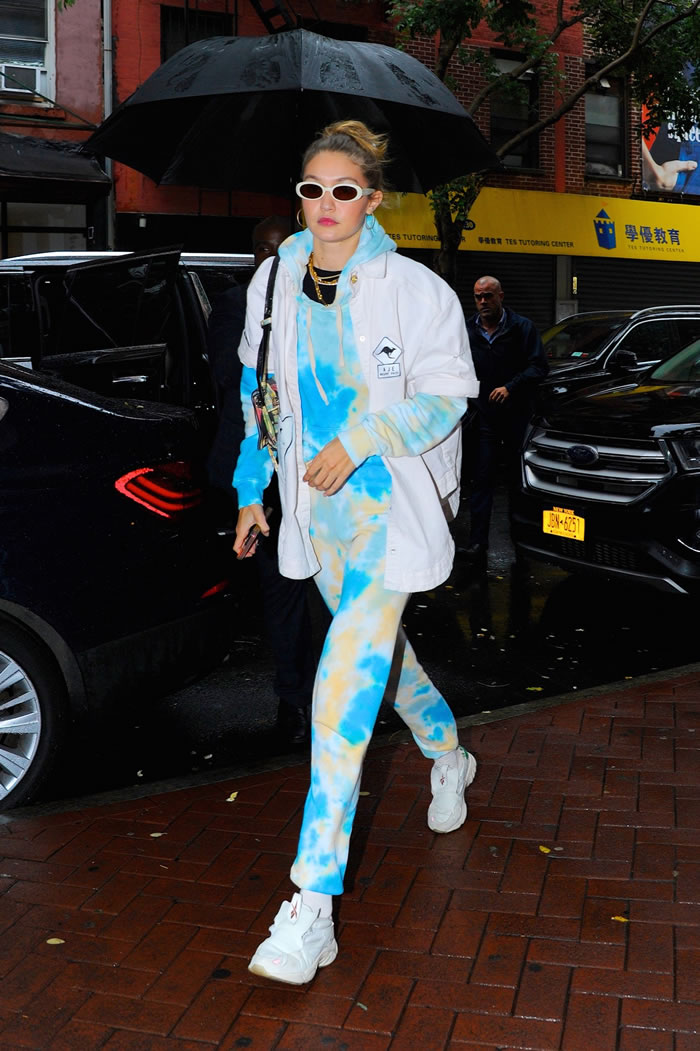 The next time it rains, make like Gigi Hadid and dress like the day you wish it was. The model made a colorful splash at her little sister Bella's 23rd birthday gathering, cementing her love for maximalism by way of tie-dye and lots of gold chains.
Amping up the color is a bold yet welcome move when skies are gray, and you'll get extra points for making shades look this cool when the sun is nowhere to be found.
Trucker Jacket + Leggings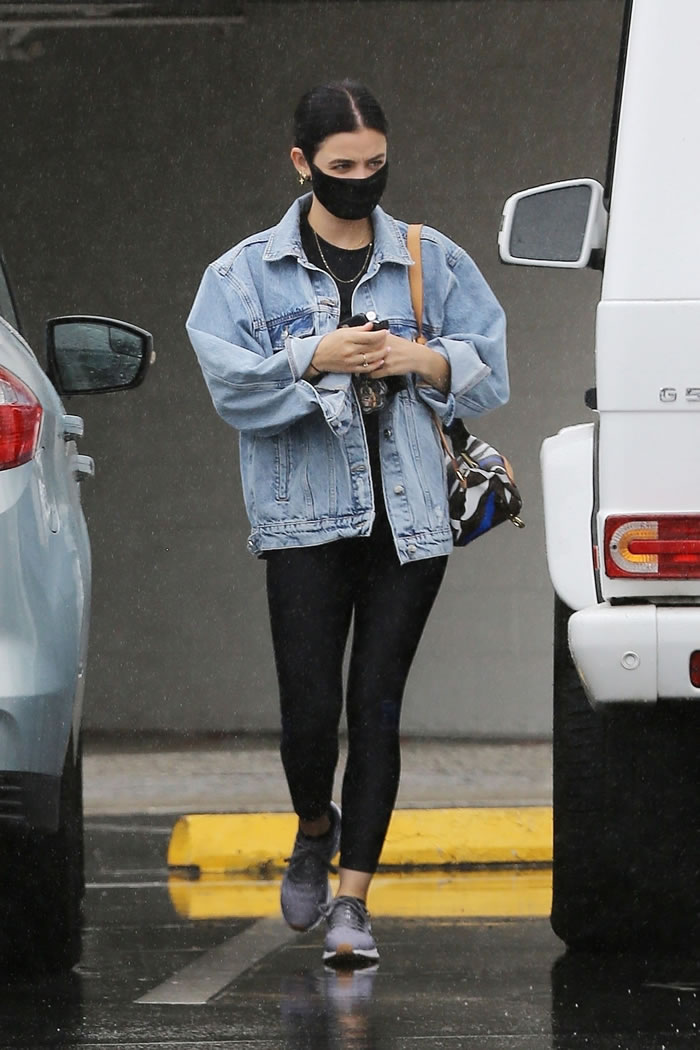 Never forget the power of this tried-and-true combo, an exquisite marriage of stretchy spandex and structured denim. Lucy Hale's blue-on-black look was complete with a dainty chain, a dangly gold earring, and a dash of doing the right thing, a.k.a. wearing a mask. Leave it to a boxy jean jacket to add some flair to your post-workout look and ensure you don't look like a walking Pilates ad once you exit the studio.
Rain Boots + Trench Coat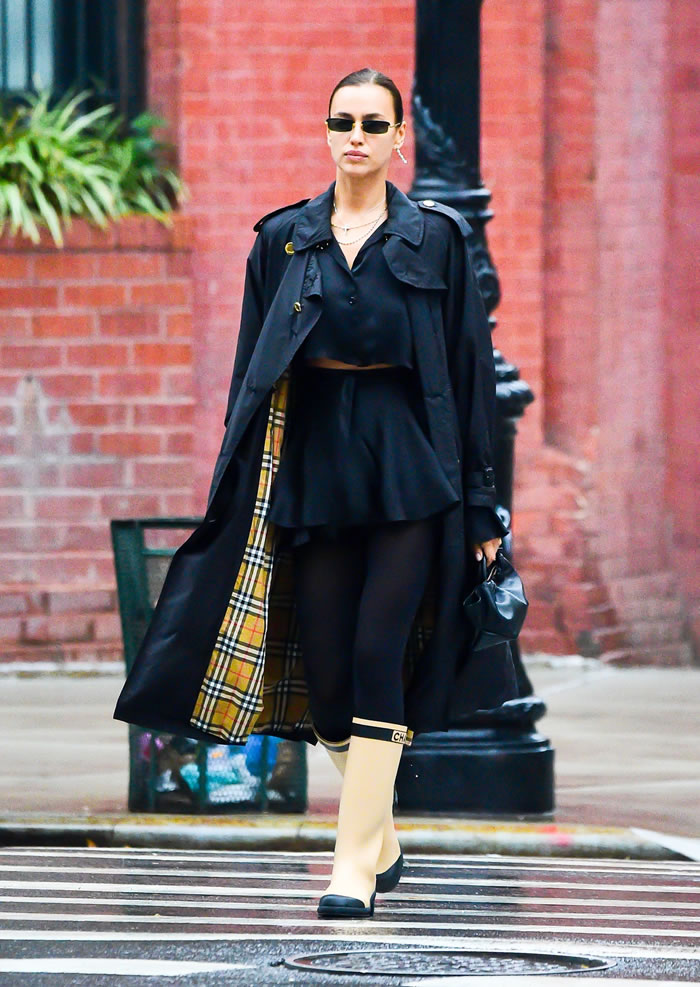 One scroll through Irina Shayk's latest looks proves the mom of one takes no days off when it comes to style. The model isn't afraid to go all out with statement outerwear, but she veered classic with this (almost) all-black look accented by luxury rainy-day accoutrement, courtesy of Burberry and Chanel. Shayk threw in an edgy twist with futuristic shades and a tiny handbag that looks like a dumpling while confirming what we already knew: Basic black tights never go out of style.
Blazer + High-Rise Jeans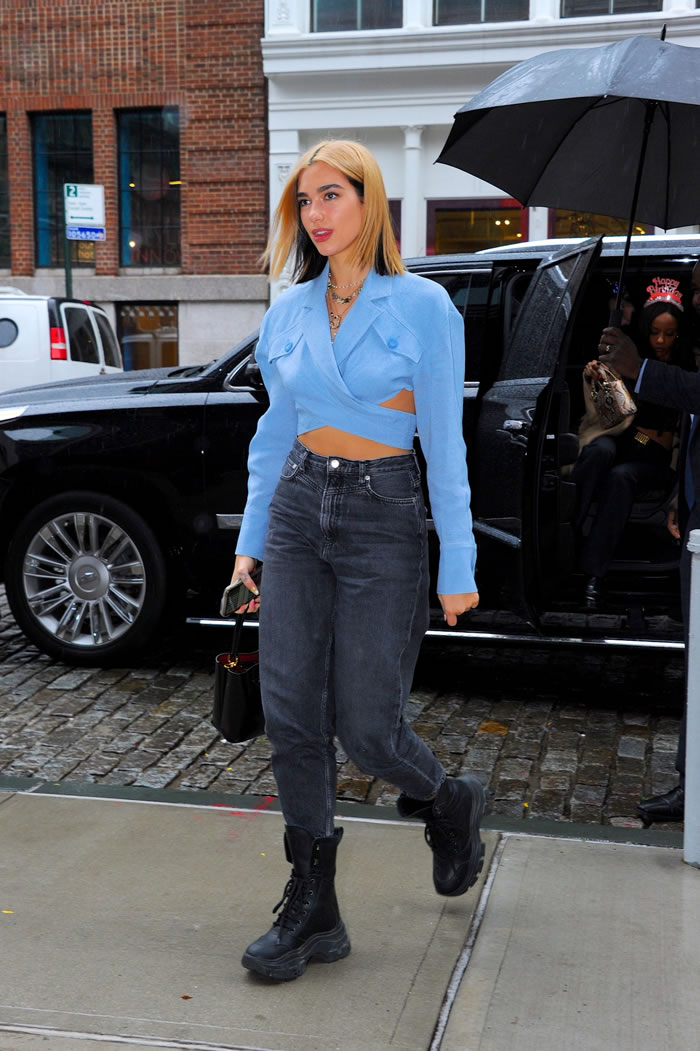 Dua Lipa knows a thing or two about reimagined workwear, as proven by her lineup of ridiculously good pink and purple blazers in the "Break My Heart" video, as well as this sky blue lewk she donned on a rainy day in New York City. The lived-in jeans offered added protection from the damp forecast, and the combat-and-moon-boot hybrids put a High Street spin on it all.
Utilitarian Dress + Loafers
Bella Hadid dressed like a secret agent, so I dressed like a secret agent. But really, one can only hope the FBI person inside our laptops looks something like this. It was the slicked bob for me, but it was also the flawless knee-high socks and chunky oxfords. Just give us the whole look.
Wide-Leg Jeans + Beret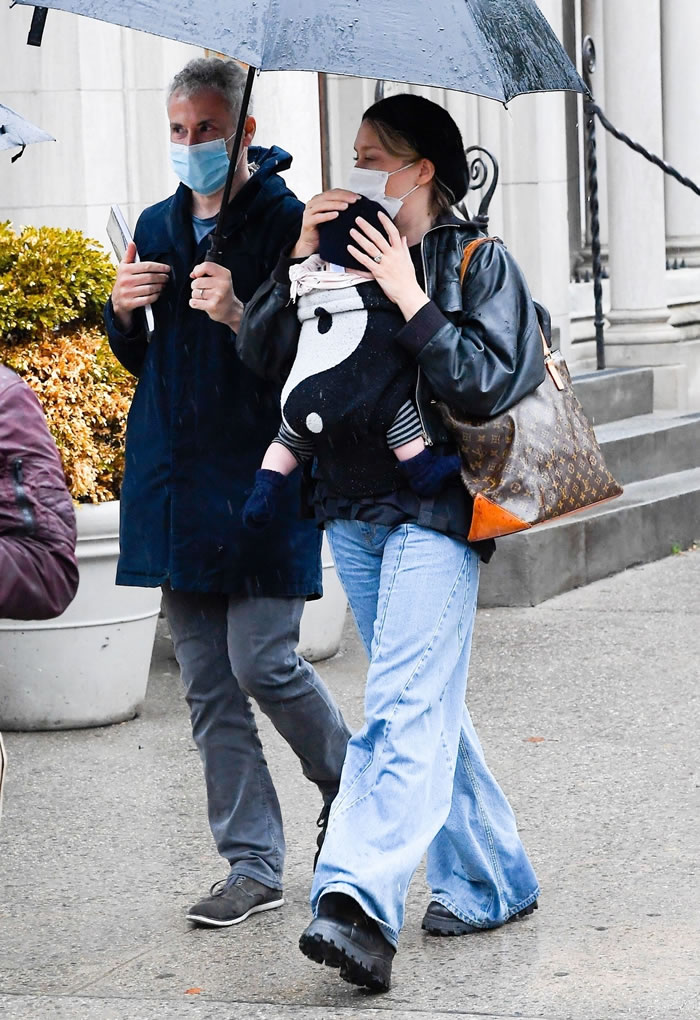 Eternal cool girl (but actual grown woman icon and new mom) Chloë Sevigny is here to get this settled: Millennials can pull off the tentlike pants that Gen Z is ruling right now. You don't have to let teens bully you into throwing all your skinny jeans away, but at least give giant denim and chunky footwear a try. Also, this might be a sign to splurge on a baby carrier that's also fashun, if you (or someone you know) has a little one on the way.
Longline Coat + Leather Pants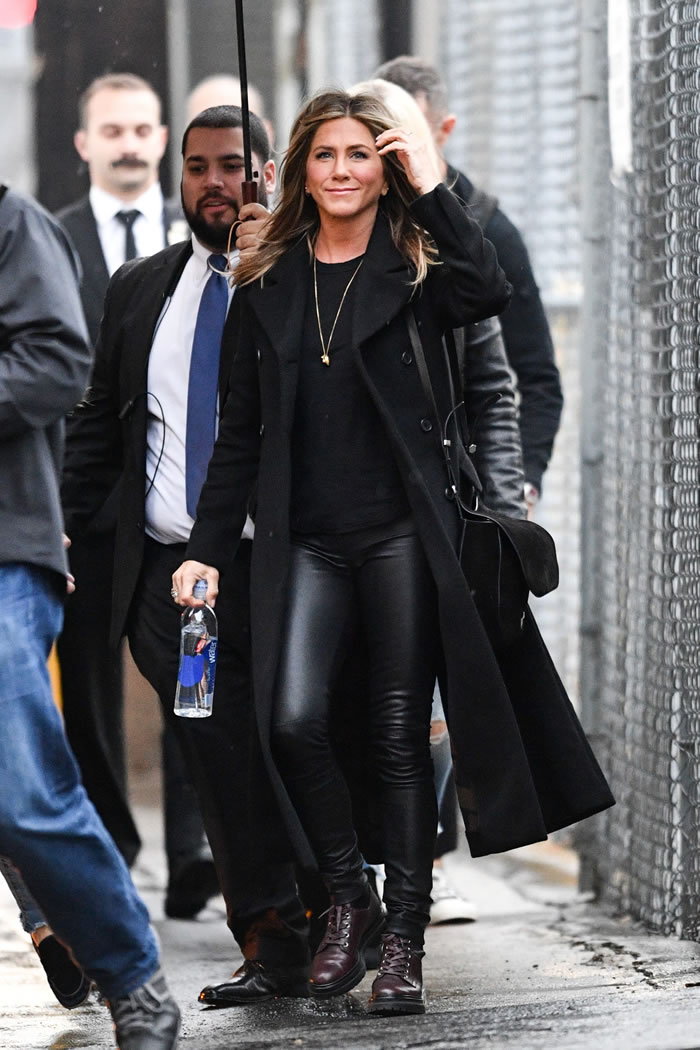 This is the Jennifer Aniston of cute rainy day outfits. It's approachable and familiar, and it makes you feel comfy and secure. Ain't no shame in sticking to the classics, because at the end of the day, faux leather leggings, a long wool coat, and combat boots will never let you down.
Puffer + Sweats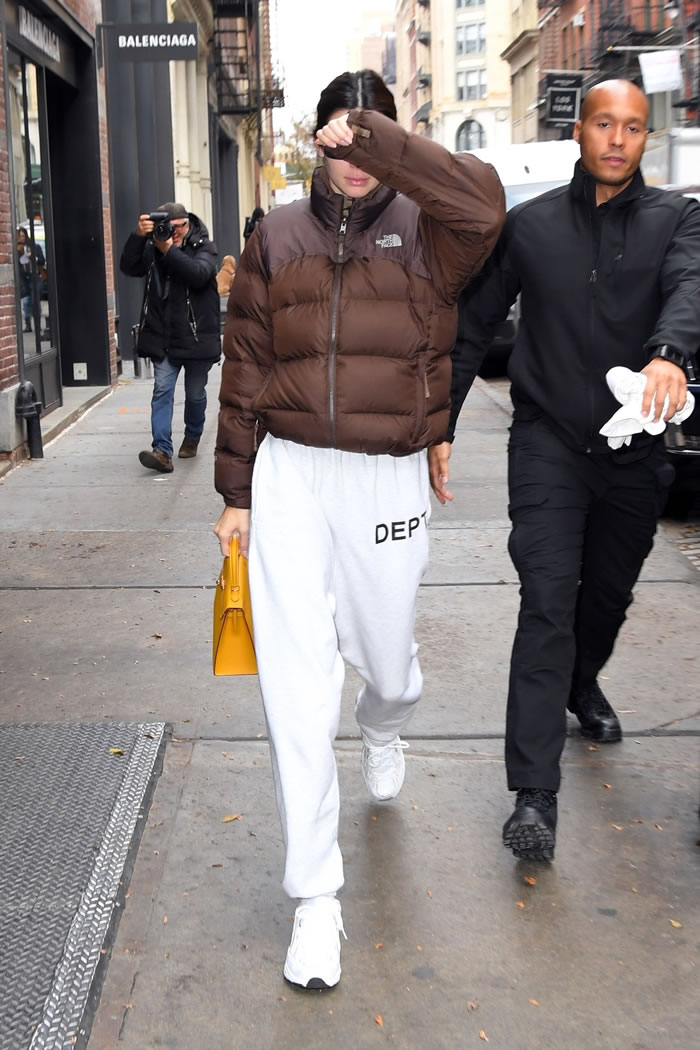 Scorpio and queen of sassy street style Kendall Jenner made yet another case for the chocolate brown trend and reminded us all that when you can't stay swaddled in a duvet all day, a plush puffer coat is the next best thing. Stick it to the man and stay in sweats as long as this strange time allows for, and assure onlookers you remember "real" fashion with a pop of color via a baby handbag.
Patent Leather Coat + Knee-High Boots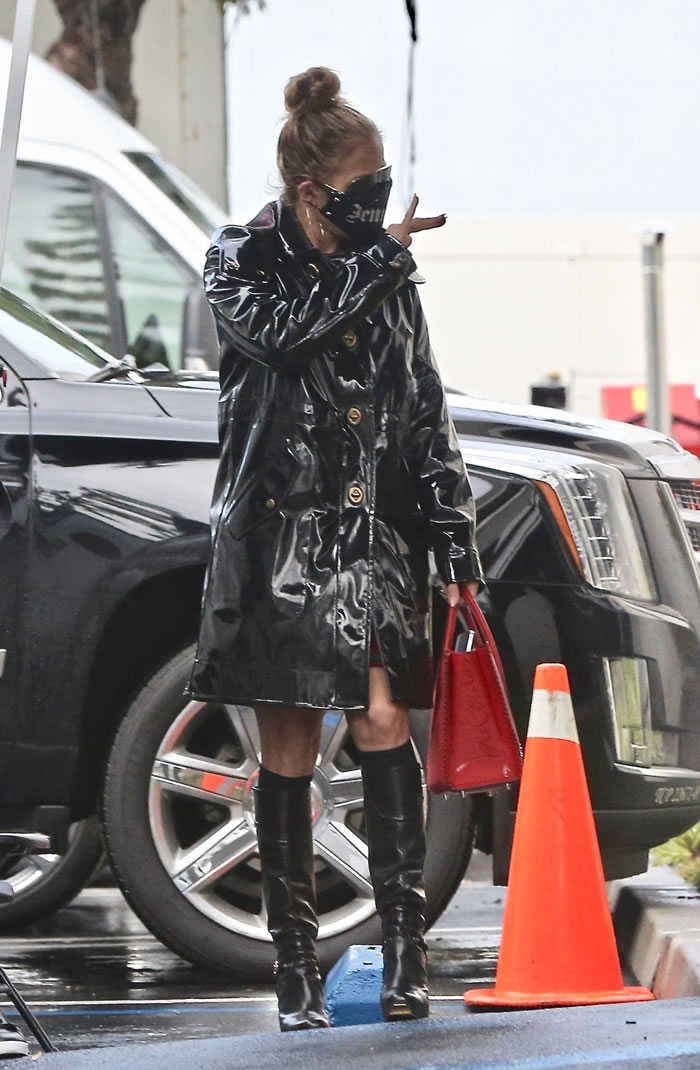 Jennifer Lopez is never one to fly under the radar with her looks, and she wasn't about to miss an opportunity to pull out some patent leather knee-high boots and a bejeweled face mask when the opportunity called. Throw your hair up à la Jenny From the Block and put on hoops bigger than your friend circle to finish the rainy-day look.