Skies were unusually cooperative as stars arrived to the 21st edition of amfAR's annual Cinema Against AIDS gala at the Hôtel du Cap-Eden-Roc in Antibes, France, on Thursday night there was a short respite from the rain that had been pelting the region throughout the day. "I was panicking earlier. I didn't know how I was going to pull this off," said Lara Stone in a voluminous skirt from the Versace archives. John Travolta, one of the event's chairs along with Kenneth Cole, Heidi Klum and Sharon Stone, was unimpressed by the weather. The certified pilot flew into Cannes himself.
"I have a Challenger jet. I'm in the air five days a week," he said, while his wife Kelly Preston, radiant in an Oliver Tolentino gown, looked on. "He likes it so much, he uses it like car," she said. Chanel was on display on many of the women in attendance, like Karlie Kloss, who wore hers with flats, and Milla Jovovich, who said of the feathery number she was wearing, "I took the ostrich down myself."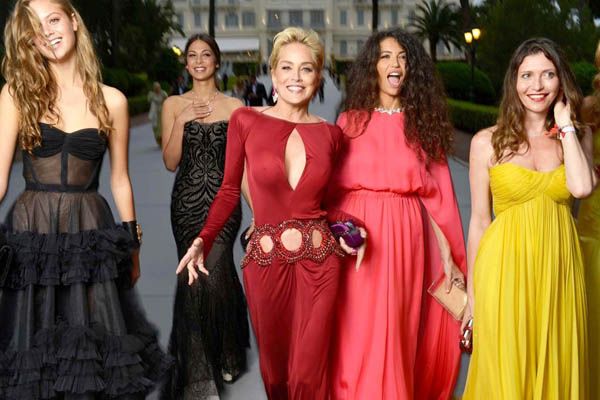 But it was hairstyles in general that caught the most attention. Rosario Dawson came with half of her head shaved, while Conchita Wurst, the Austrian drag queen who just won the Eurovision singing contest, showed up sporting a full-grown beard with his long brown hair and a ladylike gown by Talbot Runhof. "I feel like anything is possible now," Wurst said of the contest win.
As if on cue, the rain was back as Carla Bruni-Sarkozy, Sofia Coppola, Leonardo DiCaprio, Kylie Minogue, Marion Cotillard, Jessica Chastain, Adrien Brody and Michelle Rodriguez walked to the amfAR tent for a performance by Lana Del Rey. Inside, the charity's fun-loving auction began with an Andy Warhol portrait of Marilyn Monroe, who also inspired the event's red-themed fashion show organized by Carine Roitfeld. An acquisitive Russian couple would later snatch up the 40 red dresses for 3.5 million euros, or nearly $5 million at the current exchange.
Coco Rocha was wondering where one might want to put the gilded skeleton of a mammoth Damien Hirst provided for the auction. "My living room is already filled with other taxidermy," said Dita Von Teese, in Blumarine. Highlights of the night which again was hosted by amfAR board chairman Cole included a performance by Andrea Bocelli, who got a standing ovation for his rendition of "My Way" in Italian. He also offered up a dinner invitation at his home in Tuscany, which sold for 1.1 million euros, or $1.5 million. A total of 38 million euros, or $51.9 million, was raised during the evening.
Though by the time of the gala, the Cannes Film Festival was entering its second week, the round of parties did not show any signs of dying down. On Wednesday night, Minogue, Stone, Travolta and Preston, Kellan Lutz, Irina Shayk and Alessandra Ambrosio were among the VIPs who piled onto Roberto Cavalli's yacht for another party. Klum arrived with her new beau, Vito Schnabel, in tow while Adrian Grenier kept the Champagne flowing for everyone.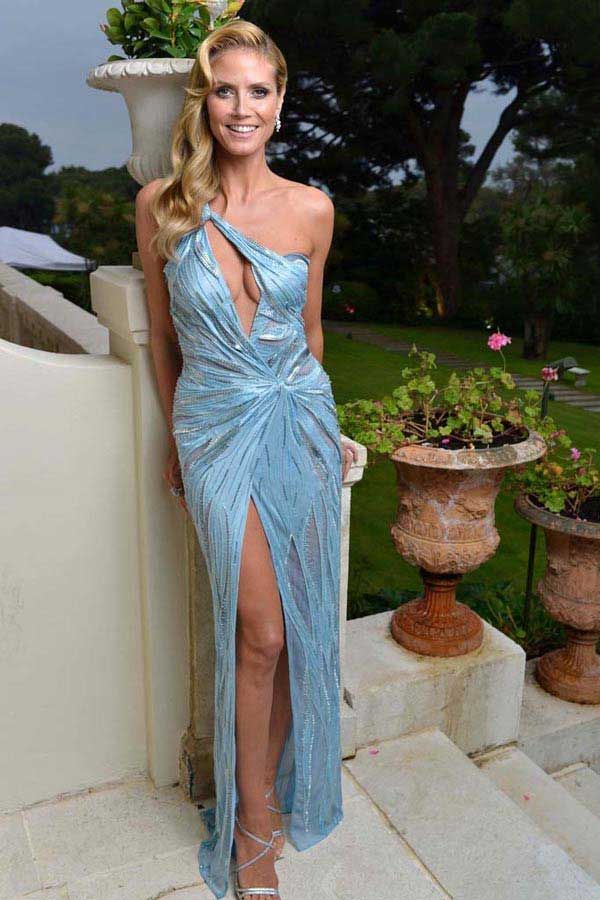 On Tuesday night, Stone was the guest of honor at a party, also at the Hôtel du Cap-Eden-Roc, hosted by de Grisogono founder and creative director Fawaz Gruosi to show off his new Allegra jewelry collection. Amber Heard, Chris Tucker, Riley Keough, Justin Bieber, Toni Garrn, Cara Delevingne and Rosie Huntington-Whiteley were among the guests at the bash, which featured a fashion show and a performance by R&B singer Jason Derulo.
A line of cars snaked down the hill leading to the venue, prompting many partygoers to complete the journey on foot. Garrn, in a white Elie Saab gown slit to the thigh, said it would be "no more than 30 minutes" before she was ready to kick off her Louboutins after the hike. On the opposite side of the harbor, Tetou, the beachfront restaurant where celebrities come to eat bouillabaisse, played host to a particularly glitzy crowd Chastain, Eva Longoria, Lily Allen, Julie Gayet, Gaspard Ulliel and Gael García Bernal were among those joining Karl Lagerfeld at the second-annual dinner hosted by the French edition of Vanity Fair in collaboration with Chanel.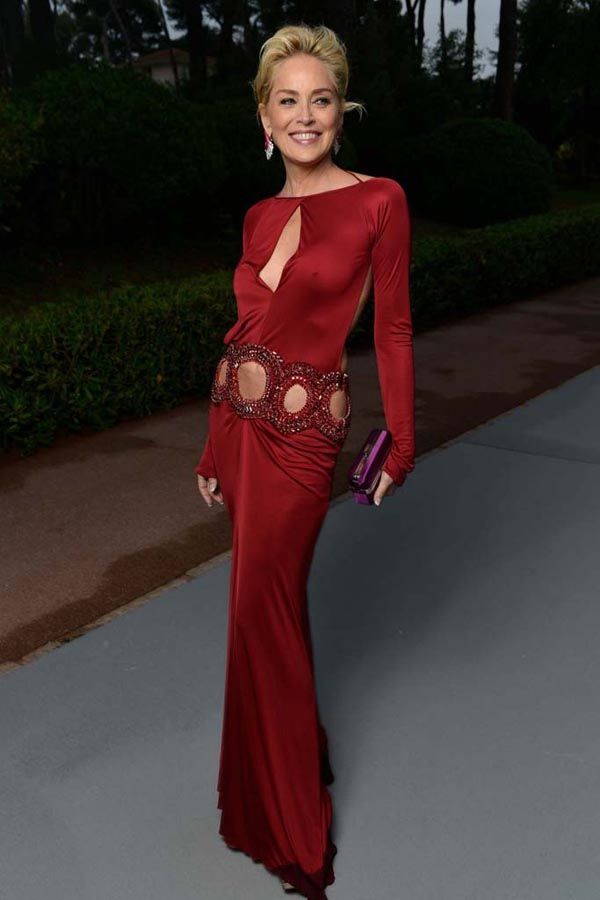 There was a brief scare when Cannes Film Festival jury member Carole Bouquet had a severe allergic reaction to one of the dishes. Paramedics treated her at the scene, but the actress gamely stayed until the end of the meal. Chastain was in town for the screening of "The Disappearance of Eleanor Rigby," shown as part of the festival's Un Certain Regard selection. "It's crazy because, to be honest, it was only three years ago that I brought 'The Tree of Life' here, but it feels like so much has happened since. But it was the beginning, it was my debut, in a way, to the world as a film actress, so definitely it feels like coming home," she said.