Paris is now home to a trio of exhibitions that give visitors a sweep of three centuries of French history, styles and fashions. Here, a look at what to expect:
• "Joséphine" at the Musée du Luxembourg through June 29: When Napoleon Bonaparte married Joséphine de Beauharnais and later crowned her Empress of France, he assigned to her the role of "an ambassador" in charge of promoting luxury "Made in France." She far exceeded her husband's expectations. "She wore three to four different dresses a day and rarely wore the same dress twice," said Alain Pougetoux, the exhibition's curator.
Joséphine's preferred tailor was Hippolyte Leroy, who supplied her with dresses embellished with embroideries, pearls, rubies and diamonds, some of which are on display here. Joséphine's passion for jewelry commissioned from the great maisons of her time such as Marguerite or Nitot (today: Chaumet) is also well represented, along with an extra-large jewelry cabinet featuring secret mechanisms built especially for her by architect Charles Percier.
But the chic empress, who was born into a wealthy family of sugar producers on the island of Martinique, also had a penchant for exotic things. "She had a very expensive taste for cashmere shawls, which was not a French industry at all," Pougetoux noted.
Allegedly, Napoleon was fine with it "until it was time to foot the bill," the curator said.
• "From Watteau to Fragonard" at the Musée Jacquemart-Andre through July 21: French painter Antoine Watteau was so interested in contemporary 18th-century society that he created a new genre, the "fetes galantes," or "courtship parties." Much more than just a feast, "the term was evocative of human relationships, including manners, grace, intelligent conversion, music and fashion," explained Mary Tavener Holmes, the show's curator. "In 18th-century France people dressed with intent, and clothes delivered a message; it was all about presentation and self-definition."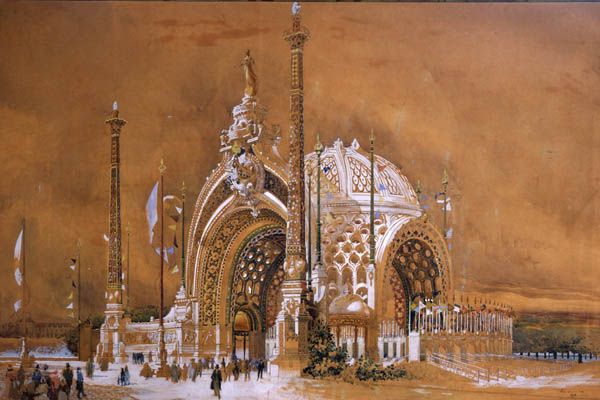 The fetes galantes coincided with a strong period in the French textile industry, as Chantilly lace and Lyon silk were in abundance. This climaxed in a four-volume tome on Watteau's motifs, sponsored by Jean de Jullienne, an affluent textile factory owner, to be used by painters as a source of inspiration.
Watteau was so fond of the most conspicuous dress of the epoch, a lavishly draped gown with a box pleat in the back, that it henceforth became known as the "Watteau dress."
"But it was not just women; men too dressed in at least as elaborate ways," Holmes said. "They had loungewear worthy of the boudoir dresses of Madame de Pompadour."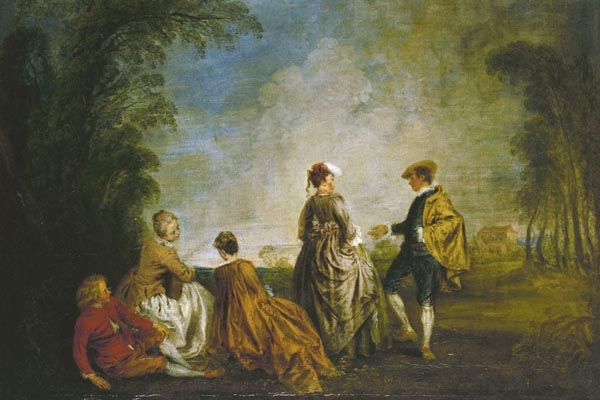 • "Paris 1900" at the Petit Palais until Aug. 17: During the Belle Epoque around 1900 and before World War I, Paris was in full bloom. The city staged the Universal Exposition, whose old splendor is traced back at this new show at the Petit Palais, where the original exhibit took place.
The exhibition gives a glimpse of the early days of couture as well as the dynamic Art Nouveau movement, which quickly transitioned from art and interiors to fashion and jewelry. It also explores the birth of the proverbial "Parisian chic." The city prided itself on its fashion, even dressing the statue at the entrance of the Universal Exposition in a look by Jean Paquin. "But it wasn't just the upper class who followed the trends," said Gaëlle Rio, who co-curated the show. At the same time, a parallel industry emerged in the Marais district, tending to the needs of less-affluent customers, as opposed to the couture clients who frequented Rue de la Paix, now the home of high-end jewelers.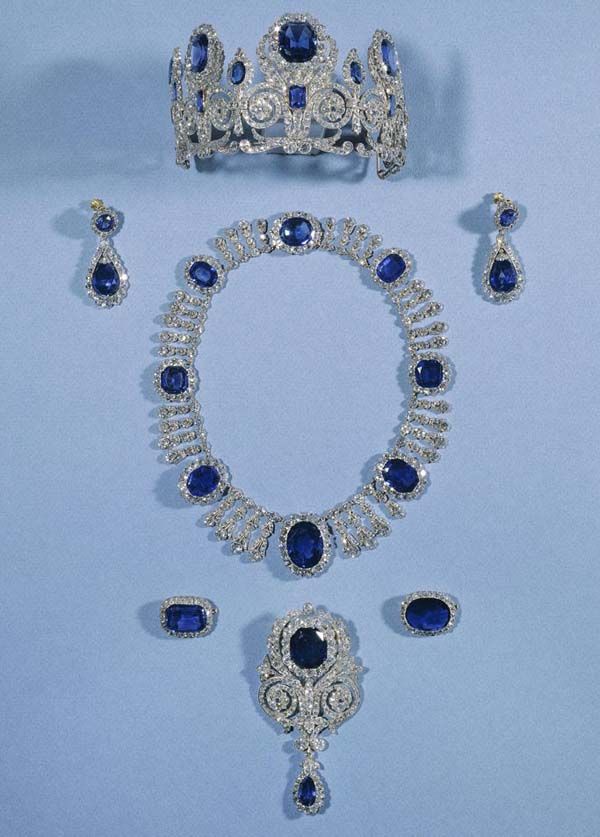 Among the highlights of the exhibit is a magnificent evening cape, which Charles Frederick Worth created out of an antique caftan offered by the Tsar of Russia to the Countess of Greffulhe, who is said to have inspired Marcel Proust's "Duchesse de Guermantes," dubbed the most elegant woman in Paris.